It's Time For A Clean Energy Future
We're coming together from Dearborn, to Detroit, to Bloomfield Hills to build a reliable, affordable, people-centered energy system that meets our needs, instead of maximizing the profit margins of wealthy corporations, like DTE.
Extracting Profits
Inducing Health Harms
Damaging Democracy
Together with our partners, MEJC and LittleSis, we find that DTE has extracted profit from its customers through hundreds of thousands of shutoffs, the second highest amount of rate hikes in the country, and unnecessary power outages that leave customers without power. They have invested heavily in new fossil fuel power plants that place significant health burdens on customers while blocking renewable energy initiatives. Finally, this report digs into the campaign donations of DTE executives, board members, and PAC to reveal how they utilize dark money to advance their profit-driven agenda.
In recent years, utility companies have been increasingly engaging in what is known as "demand response" programs. These programs allow the company to temporarily shut off power to certain customers during periods of high demand, in order to reduce strain on the grid.
Each time the power goes out, our community takes a hit. We spend hundreds of dollars replacing spoiled food, and miss days of work or school. For elderly family members and neighbors, who are vulnerable to heat exposure, and for people with medical devices that require electricity, blackouts can be deadly. Nearly a million people in Michigan went without power on February 23rd, with nighttime temperatures falling well below freezing in the coming days.
Meanwhile, our state's investor-owned monopoly utilities shovel profits to shareholders and evade accountability for the real costs of their failing infrastructure.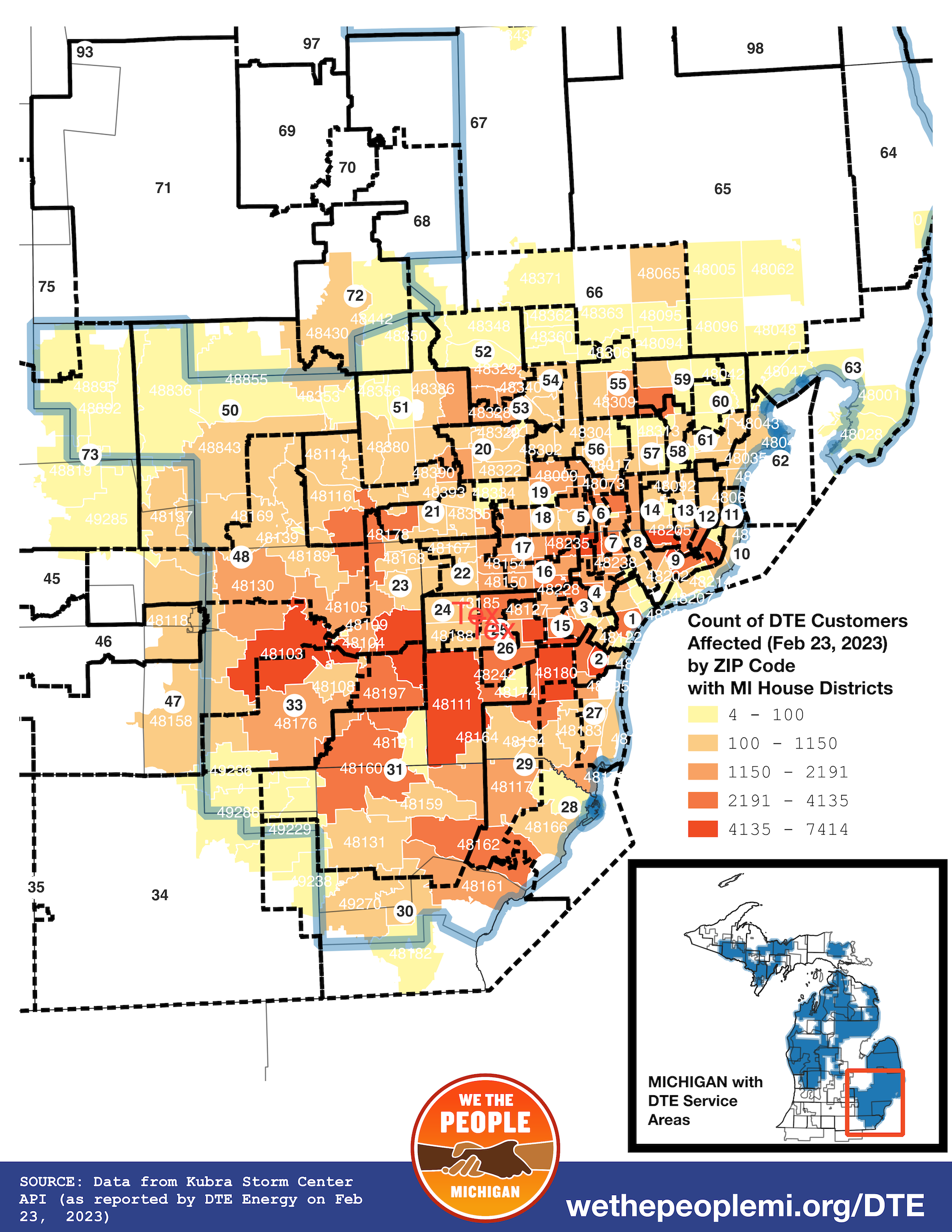 Utility Redlining: Inequitable Electric Distribution in the DTE Service Area
Key DTEE infrastructure is a decade or more past expected use in 4.8 kV areas


In Detroit, with double the vulnerability level as the region, most residents only have outdated electric infrastructure

Modernization efforts in Detroit favor industrial and municipal customers over residents