This report serves as a guide for renters and tenants in navigating their rights when renting a home or unit. It includes information about rental leases and policies, eviction rules and complaints, landlord responsibilities and expectations, tenant responsibilities, and financial and legal assistance in Michigan.

Tenants are living in these homes and buildings; therefore, if they are aware of their rights, they can help hold landlords accountable and keep neighborhoods and communities safe. Keeping tenants informed is essential to prepare them against evictions, falling into debt, dealing with bad landlords, and helping them advocate for themselves and their communities.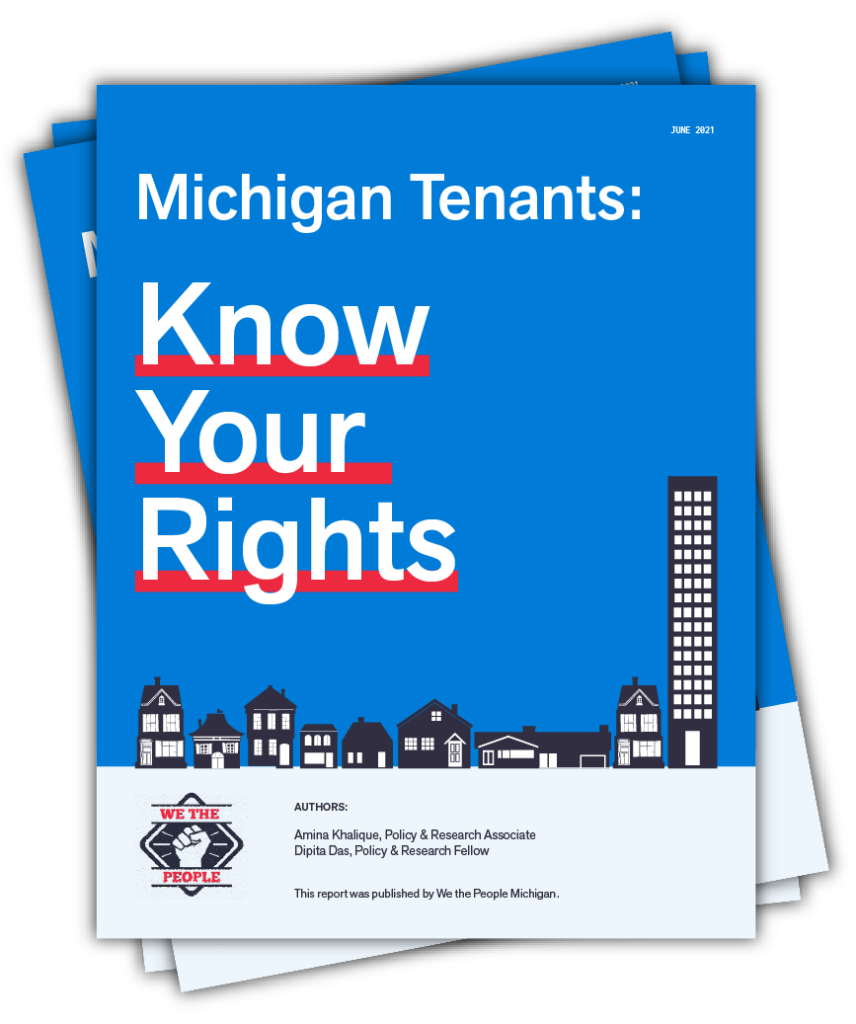 Each year, Michigan landlords file approximately 200,000 eviction cases and around 40,000 Michigan households lose their homes as a result of court-ordered evictions.
In 2017, there were approximately 1,100,000 rental households in Michigan—that's 29% of all households. In Detroit, renters are estimated to outnumber homeowners.
According to the U.S. census data, nearly 43% of Michigan tenants cannot pay rent and are at risk of eviction.
With a rise in evictions in Southeast Michigan and other urban communities, it is necessary that tenants are well-equipped and informed about their rights and that they understand how to exercise the rights granted to them in Michigan. Due to the COVID-19 pandemic, families and individuals have faced even more challenges with affording and paying rent. Although some policies, such as the eviction moratorium, have provided eviction protections and extended financial relief – it is only temporary. 
As affordable rental homes diminish, the cost of housing increases rapidly, poverty continues to strike communities, and disparities and discrimination in housing availability are common, the state of Michigan faces a housing crisis with tenants at the center. Today, landlords have access to a lot of information and resources to sustain their rights and legal impositions. However, tenants, especially those who are low-income and marginalized, are often left underrepresented with a lack of awareness or information.
Know Your Rights
as a Tenant
⧠ Are you a tenant?
⧠ Do you have family or friends who are tenants?
⧠ Continue reading to know your rights!

If you currently rent your home, then you are a tenant. You have the right to live in a habitable home and exercise the rights and protections that are granted to you. When you are in the process of searching for a home to rent, it is important that you are aware of any fees and costs, as well as knowing if it is affordable for you before signing a lease and making the decision to live there.⁴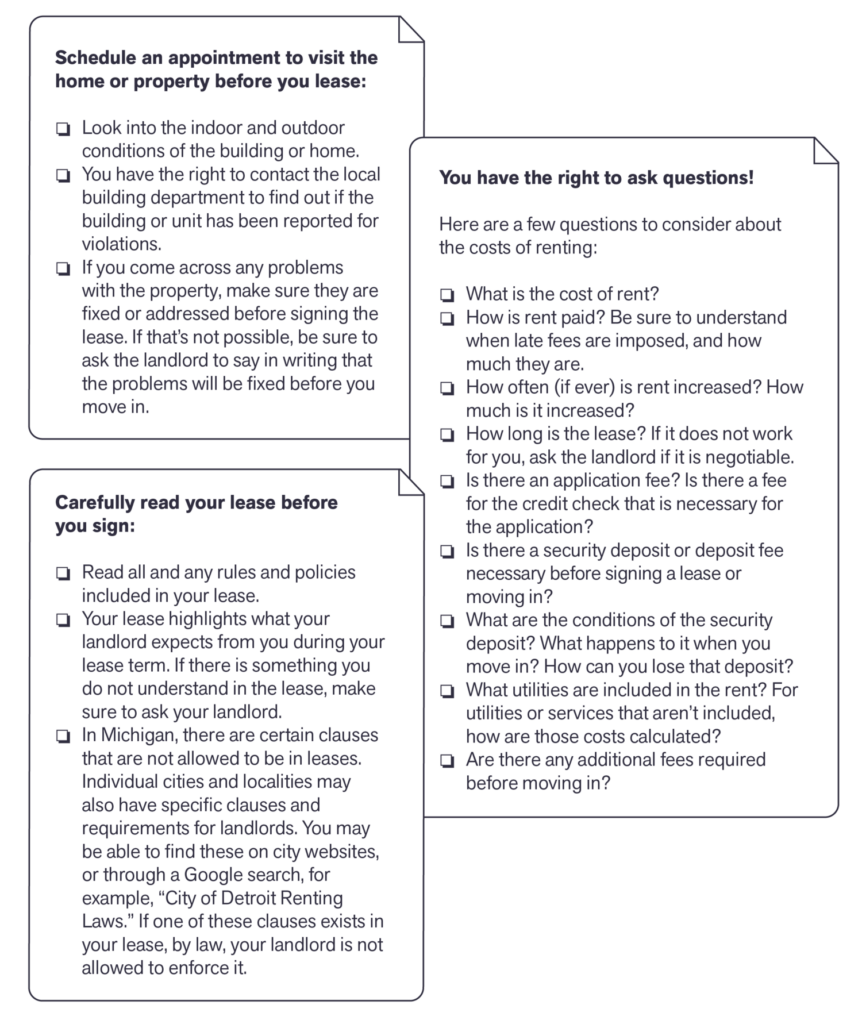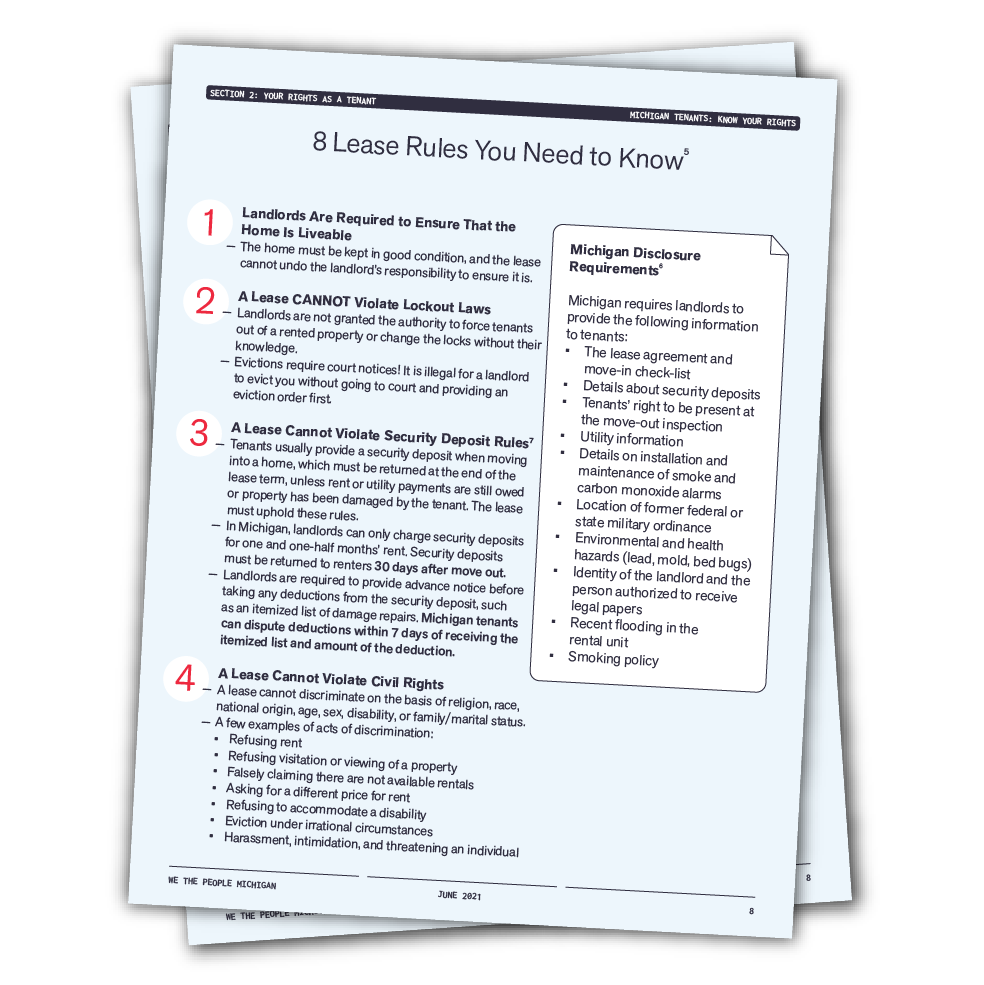 8 Lease Rules
You Need to Know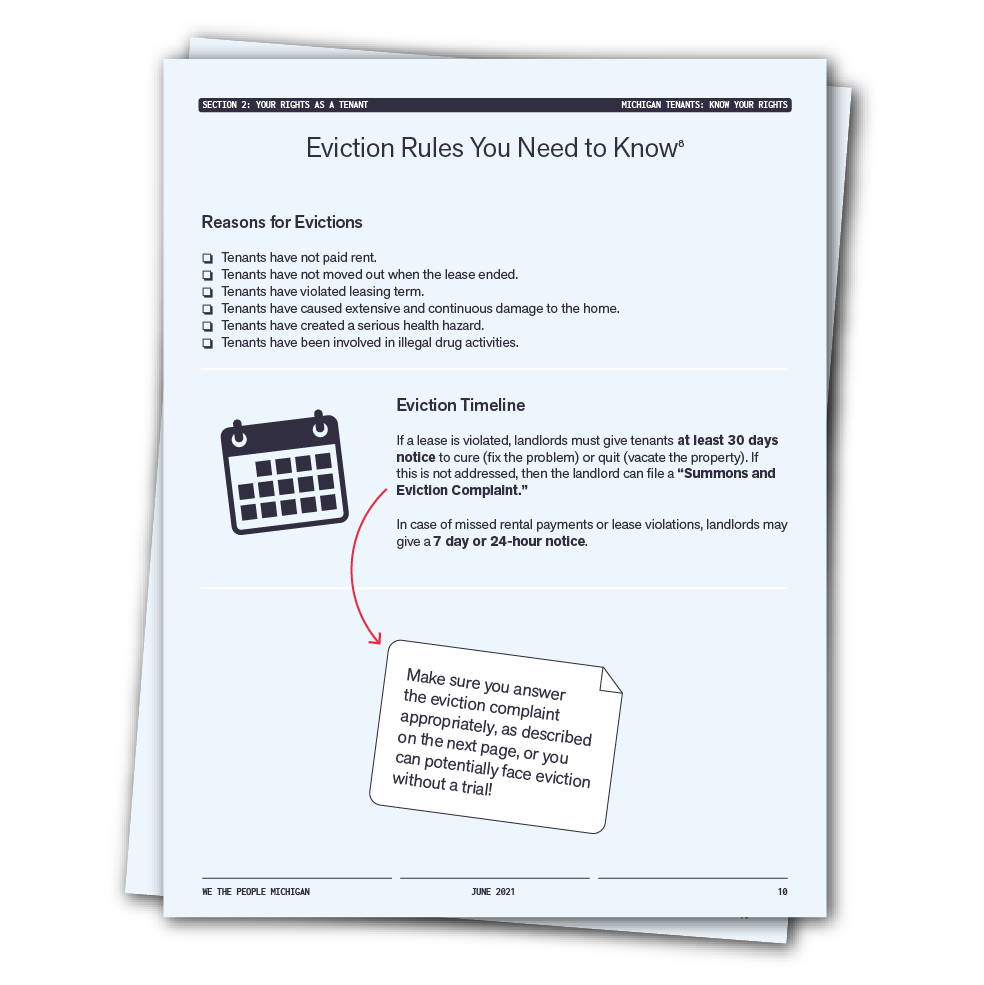 What Happens if a Landlord Files an Eviction Complaint?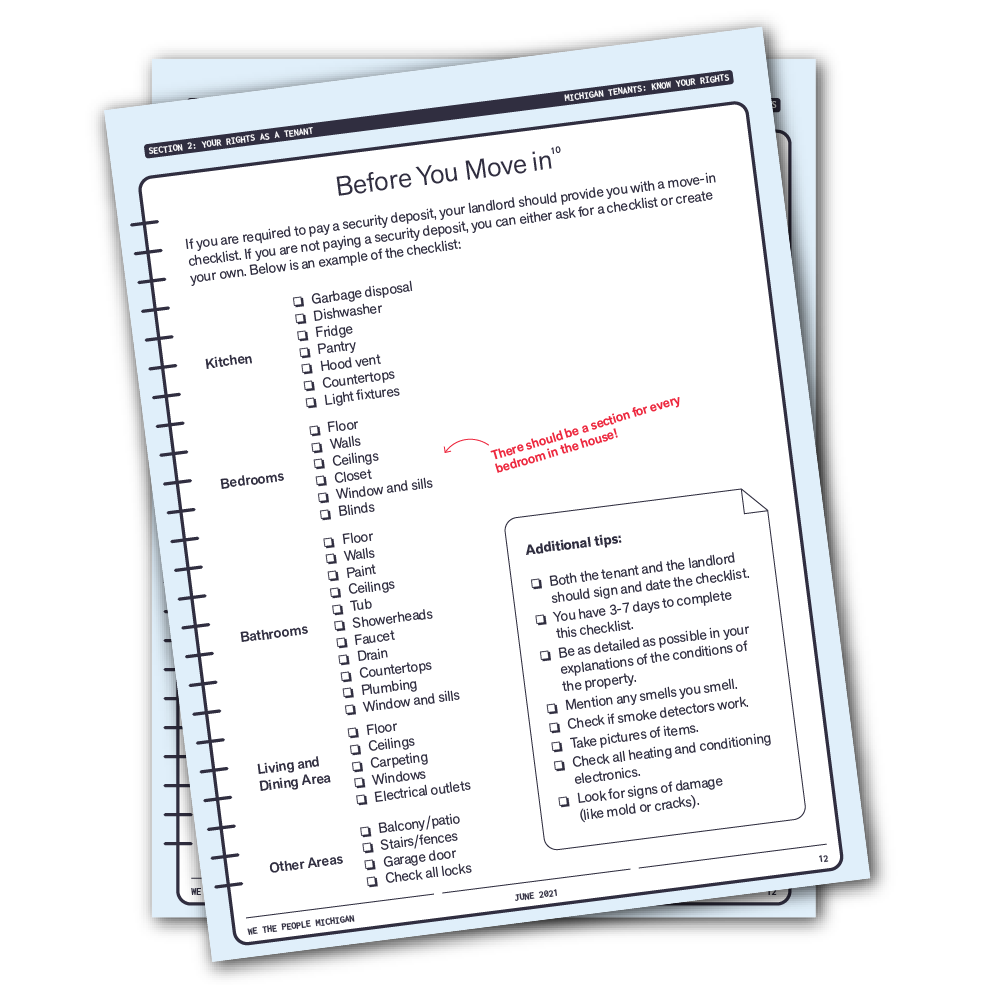 You Signed a Lease, Now What?
Plus a Move-in Checklist
Your Responsibilities
as a Tenant
Keep your home in good condition, and try not to damage your home. If any damages occur, you will be responsible for the costs of damage repairs that you have caused.

Maintain your home to the best of your ability, and keep track of your receipts for all rent and bills that you pay.

Before making changes to your home (such as updating the paint color), check your lease in case you need permission from your landlord.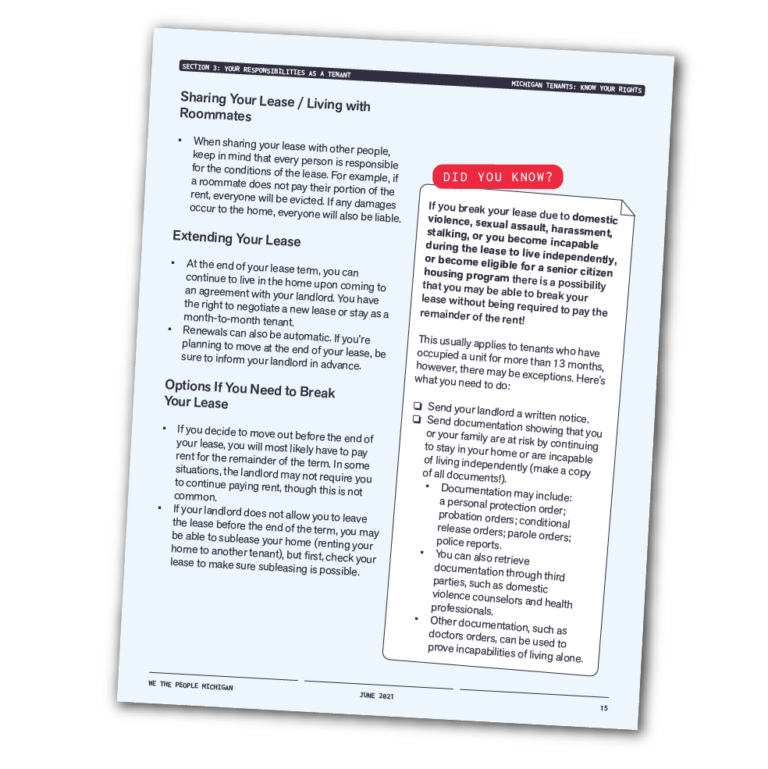 Your Responsibilities as a Tenant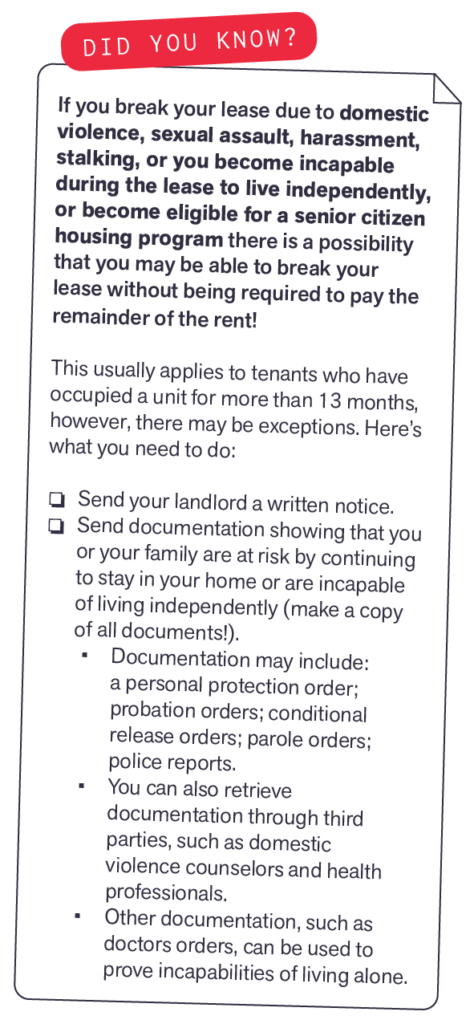 FINANCIAL & LEGAL RESOURCES FOR TENANTS
Interested in taking action? Email us to join our Housing Coalition! Our statewide housing coalition is a group of organizations, organizers, researchers, and activists across the state of Michigan working to accomplish local and statewide housing policies and solutions to address the existing housing crisis.
Do you have any questions, concerns, or need help addressing additional housing assistance needs?
Please contact amina@wethepeoplemi.org 
Add yourself to our monthly newsletter to see more of "what we do" on the ground, and find ways to get involved!